---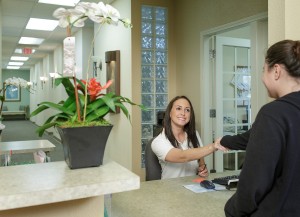 First dental visits can be relaxing if you know what to expect. From filling out

New Patient Forms

to getting familiar with the

Complimentary Spa Services

we offer, your first visit will require a few extra minutes. Given adequate time, you will receive our New Patient Welcome Packet in the mail.  If you have not received this information, you can download a copy here:You can view a copy of our Privacy Practices Policy here:
This will allow you to fill out the necessary paperwork at your convenience.
When you arrive for your first visit, we will need a few minutes to input this information. This is a great time to start relaxing with a cup of tea. Within minutes, you will be seated in a comfortable room and offered a wireless headset to listen to relaxing music. Now is the time to let our Certified Massage Therapist know that you would like to receive any of our.
A first dental visit usually includes X-Rays, Intra and Extra-Oral examination, Oral Hygiene Instructions, Periodontal measurements and a light cleaning.  Depending on your oral health, we may recommend a second visit to provide a more thorough below-the-gums cleaning.
By the time this is completed, we will present to you a treatment plan with an estimate of the number of visits, total cost, your insurance portion and your co-payment. When you are ready to start your treatment, we will gladly find time in our schedule for your dental care.
If you have any questions, comments or concerns, please feel free to

contact us

anytime.